Hi ya gang - There was zero woodworking on this project, but nonetheless am happy enough about doing it that I wanted to post it here.
This is a Dynaco ST-70 stereo tube amp built from a kit (Dynakit) by my uncle in 1964. He used it for many years, and gave it to me sometime in the late 1980's. Shortly after, I ran into a 1961 factory wired version of the same amp, and ran both amps in mono mode in my stereo setup for around 25 years. Wonderful sounding amps. A couple of years ago the amps started acting up, as any 50+ year old electronics do, so I pulled them from service to give them an overhaul. My uncle's 1964 amp is now finished. I stripped it down quite a bit, gave it a good cleaning, bought and soldered up a new and upgraded circuit board for the driver stage from VTA electronics, replaced all 8 vacuum tubes, installed a new quad capacitor, gave it a new power cord, new inputs, new outputs, added some toggle switches that allow me to switch between pentode and triode mode, and added an "on" light indicator to help my wife remember to turn it off!
I got it wired up, biased the output tubes, and watched in glow!
The amp uses a GZ34 rectifier tube, (3) 12AU7 driver tubes, and (4) EL34 output tubes. It puts out 35 watts per channel in pentode mode, or about 20 watts per channel in triode mode. I've got new 12AX7 tubes ordered for my 1990s Lazarus Cascade Basic preamp, and will continue to use a nice pair of custom speakers I finished in the mid 90s. For now, I'm going to stick with one stereo amp, and use it in triode mode that will put out a beautiful sounding 20 watts per channel. Hope to get another 25 years of service from the old Dyna!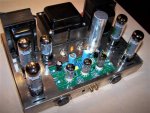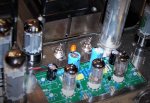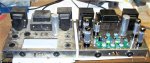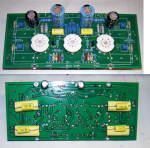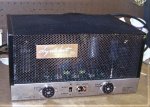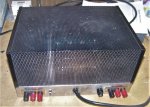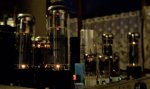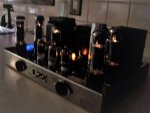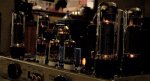 Last edited: