I have failed to post pictures of the kids and their calves and plan on doing a better job this year. Not a lot of woodworking, but this project creates woodworking projects in fixing fence/gates, making feeders, etc. Those of you in attendance at our Family Gathering will see how much the kids have grown!
I don't carry my cell phone outside much and if I happen to have it, I am busy helping so don't get many opportunities to take pictures. Thus I rely on the kids, Lou, or Fina to take most of the pictures. Fair is near the end of July. So if this journey is of no interest, I'll not repeat it next year for you guys.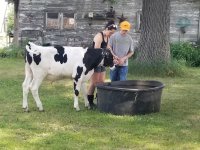 I don't know all of the calves names. When I handle them I just call them a nickname/odd ball name. When we get serious about teaching them to lead, we create a catch pen in the barn's alleyway and get them in this pen one at a time. Last weekend we moved them from their big pen to the stanchions three different times in one day. Because they get grain only in stanchions they look forward to the treat so after a couple of times, they will willingly walk into the catch pen because they know feed awaits them. This series of pictures is Monday, the third day of moving them into stanchions three times in a day. The calves are walking willingly so now we need to add length to the walk and also obstacles. Doorways, grass, dirt, shadows from trees all of these things cause them tension/jumping/balking. The reward, water. They are also wary because this is the first time in their life they have seen this sized water trough. So this is a series of pictures of 4 of the 5 going to the trough for the first time. This is calf #1.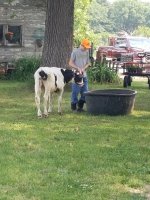 This is calf #2. As I work with each grandkid I will learn what calf belongs to which kid. CJ being the oldest and strongest is the designated leader this year. His first year in this role, my first time of not doing it for them. He is doing well.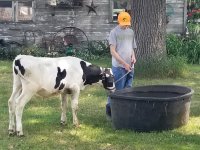 Calf #3. Those of you who know, Fina and Josh have 4 children. Tess and Eric have one child. She is not in full time 4H until next year. We have always bought an extra calf and let Audrey call it hers. It offers us an option if something happens to one. So one of these belongs to Audrey.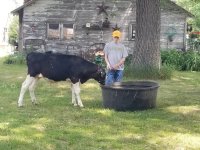 This is calf #4. Audrey's calf is a spare for Fina's kids this year as it is signed up for their fair. IF it stays tame and calm, Tess and Eric might let her show it next year at their fair which would be her first official year of 4H enrollment. Have to remember, next year, this set of calves can and should be 1200-1500 lbs each. Stand about 5'5" to almost 6' at the shoulder.