I don't use my shop much in the period from early May to early November. During that time I am mostly on a trip, at Pellow's Camp, or working on outdoor projects. Last year, when I moved back into the shop in autumn, I took a whole week to do some housekeeping as well has some small improvements. Upon reflection, that seems to be a good thing to do each year.
So, this was the week. The big clean-up job was to repaint the floor. With a shop as crowded as mine, this requires a lot of equipment moves, so I painted the place in 5 distinct phases over 5 consecutive days. The photo below shows a bunch of machines crowed into one corner so that I can do some sanding. I buffed the floor with 120 grit paper on my Festool Rotex sander before painting.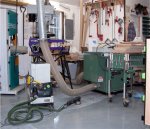 As is obvious in the following photo, the floor was in bad need of painting. I used CIL Dulux Urethane Floor and Porch Enamel
(oil based).
Its good stuff and only one coat was needed.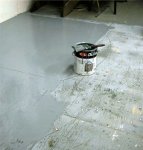 On two of the days this week, I had help. My granddaughter Isla
(six and a half)
had to stay home from school because she was contagious
(but not sick).
We hung out together in the nearby park, in the kitchen
(where we made waffles for breakfast and made pumpkin cookies –both from scratch including a real pumpkin),
but mostly in the shop. Isla spent a lot of time in the shop drawing, doing math problems that I set for her, and playing games; but she also helped
(and I mean really helped)
with some tasks. Here she is taking a break from our marble game to eat some apple sauce.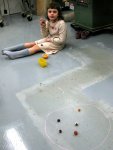 Here she is about to turn a cartwheel:
Turning now to the shop improvements.
First, three shelves were added to the top of the bookcase –making it now 10 feet high.

Second, I now have a much needed cut-off bin. It is made of G1S 12 millimetre Fir plywood with butt joints held together with glue and 1.25 inch drywall screws. Here are a couple of pictures of the bin under construction: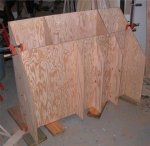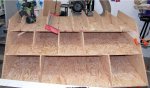 And here it is in position and in use: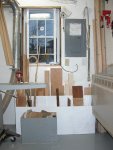 And last of all, I built a set of open shelves
(again out of G1S Fir plywood –the sides and top 19 mm and the rest 12 mm).
The day that the shelves and the dividers were put into the unit was one of the days that I had Isla's assistance. She really enjoyed the fact that we could put them anywhere that we chose to do so and I let her make some of the decisions.
When I took the above picture around noon today, there was still wet paint on the shelves, so they are empty. By noon tomorrow, I am sure they will be full.
Last edited: