Administrator
Staff member
I've been collecting parts over the years and I think I'm ready to start a new cnc table this spring, still working on the exact design since it will be based on the equipment I have collected.
The rails and screws I recently ordered are 1500mm long, so just under 5', so the usable area will be more in the 4' x 4' range. I'm planning to use a ball screw on each side of the Y axis (table length) and one on the X axis (gantry width).
I really like the Legacy brand of CNCs which accommodate the 4th axis sunk into the bed area of the cnc and usually an adjustable end section for doing dovetails and such on, such as this...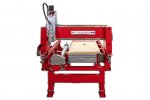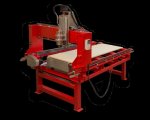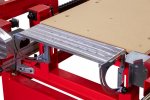 I just can't afford their machine.
I'm thinking I'd like to have a removable bed section to fill in where the 4th axis is, when not in use.
I'm planning for a steel frame, but may go with aluminum plate/extrusion for the gantry parts. Though I do have a plasma cutter, so could cut some parts out using templates.
The stepper motors will probably come from the current cnc, which are Nema 23's 425 oz/in, but I'm open to feedback on if these seem too small.
I'm looking at a water cooled VFD controlled spindle, probably in the 2.2Kw range. Again, would like to hear of experiences with this size of spindle.
Running it on my current copy of Mach3. Probably will go with a usb controller, but may spring for the ethernet connected one.