Administrator
Staff member
After looking at the z axis, I found the bearing model numbers and ordered another set.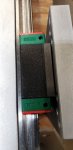 I may just remove the old plate and use the 1/2" piece I bought to connect directly to the bearings and screw nut. I would need to trim about a half inch off the bottom piece to clear it though, probably between the two black lines, center of the two holes they pass by.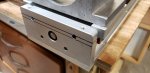 The linear bearings are about 2.5" long, so I'll lose about 3.5" overall of travel, leaving a little over 8" of z travel. I will have some space to play with in where the spindle sets in its mount as well. Probably can swindle 10" to 12" overall between it and length of bits used.