The vanities are done except for the painting. So, while they are out being painted I am getting started on the next project.
This is the first of two mantels I am building for a customer in a nearby town. He is restoring a 1913 A&C home. With over 3,000 sq ft to work on I think it might take a while! My small part f the project is an overmantel for the library and a complete mantel for the parlor. Starting with the smaller one first.
This is what the current mantel looks like. The engraving says, "I cannot warm you if your heart is cold."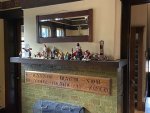 The new overmantel will feature a pair of antique copper sconces and a beveled mirror. Construction will be QSWO and QSWO plywood. The tapered stiles are a reflection of a very unique feature of the home. Just outside the library is the main staircase. The newel post and balustrades all have this taper, about 2 degrees, and I thought it might be a cool detail to carry into the library.
There is a substructure that sits on top of the ledge created by the tile and will be attached to the stucco with a few dabs of construction adhesive. The mantel shelf slips over a cleat on the substructure and the upper assembly, fully assembled in advance (hopefully) will rest on top of the shelf. A simple molding will cover the transition and any gaps between the assembly and the existing picture rail. Gravity will do the the bulk of the work holding it all in place with the help of a few small screws to lock it all down.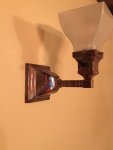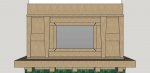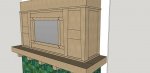 Last edited: