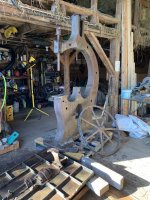 By way of checking in after some time away, here's a little restoration project we hope to get underway in the next few months. It's a 36 inch Cowan & Co bandsaw, built in Galt, Ontario in the early 1900's.
It'll be fun, but not quick, as there are many other projects on the books. I'll keep you posted.
I hope everyone is doing well and enjoying some shop time.