Administrator
Staff member
We're halfway through doing a show in Studio City this weekend. It's a nice show, with lots of good "real" art for sale. Weather is beautiful SoCal postcard stuff. Only thing that's missing is the buying public. So far my sales have been low, but hopefully we'll have better traffic on Mother's Day. The other vendors are also sitting around doing nothing. The people across the way from us regularly sell $1500 per day at this show. Today they sold $50 worth of stuff. (They packed up, went home, and aren't even going to try tomorrow.)
Despite the poor sales, I did have one nice little addition to the booth. See if you can spot what's different...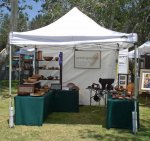 Here's a close-up that might help...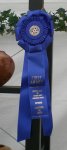 I won first place in the wood art category, against several other folks who I thought had nice stuff (including two full-time turners). Unfortunately, there's no prize money involved, and I don't think I'll be able to deposit the ribbon in the bank, but I was still pleasantly surprised to win a ribbon...my first.
Now if I can have a decent sales day on Sunday, then I'll really be happy.