Administrator
Staff member
So a while back I started the Laundry Room remodel and got to the point of demo and getting the new tank-less water heater in. I've been waiting to get the main water line for the house replaced as the DIY builder that built this house put the copper directly on top of the concrete wall across half the length of the house to the end of our downstairs bath. My wife finally gave me the go-head to demo the bath (as long as it's done by mid March), which will let me get the lines replace and upgraded to the right size. It comes in the house at 3/4", but drops down to 1/2" to feed two baths, the kitchen, and two outside faucets. I'll be running 3/4" pex to the other end of the house and replacing all of that.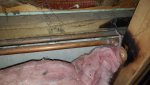 Today was demo day for the bath. The previous owner used the pop-corn ceiling spray on the walls in the bath and painted over it to give it a "stucco" effect.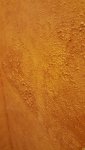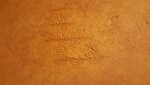 It didn't look bad, but had some water damage around the tub, and we didn't like it enough to repair and try to match it. And since it was all painted, it would be a bear to get off, so my solution was to gut things back down to the studs.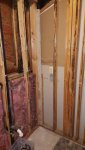 If you note in the pic above, the toilet is opposite of where the vanity was, which was hanging in front of the toilet making it a tight sit.
Typically the toilet is on the same side as the vanity, so not sure what they were thinking during the build of the house. We're still leaving the toilet here, but will be putting a 36" vanity in (vs. 48" to give some walk space around the toilet.
So other than the issue with the pipes, I also found the exhaust fan wasn't ducted to anywhere and was in a closed cavity, so for the past 25 years it's been blowing dust into the joist space. I decided to kick it on once the drywall was down it it kicked out a huge puff of dust. Guess it's never had that kind of cfm through it before.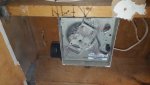 Next up is a bunch of tile removal, unfortunately I don't have any matching and the new vanity will be smaller. My wife also wants a lighter colored tile to help brighten up the room.