Another art museum project. 11 "fiber art sculptures" each about 75" long and 52" wide and what turned out to be wildly varying heights were assembled and put out for a month on a rather exposed side of land in 40-100mph winds in the windy Columbia River Gorge... at Maryhill Museum.
I got volunteered in to help try to make sure it didn't all end up in the next county (we'll see how it works out, I have my doubts about some of the pieces survival but feel moderately well about our tying them down).
LOML and I also made 200 "toy wheel and dowel" drop spindles one evening (200 was where the cost/shipping break even on the parts landed) and donated those. There were a bunch of kids running around spinning yarn with them which was pretty cool.
The first part was an 80' track of 2x8's tied together with strong-tie braces and some plywood lagged to the undersides. I basically made them in square 10' sections then tied the sections together with the strong tie strapping. This whole assembly was then pinned in place with 12" long 3/4" rebar (to which I welded a washer on the top of each..) every 3' +- and some longer (28" I think..) rebar at the ends to keep it all from shifting side/side.
Track assembled here, you can see some of the rebar pre-assembly if you squint a little.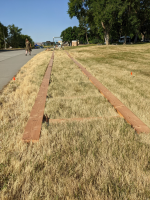 I had bent some H1 strong ties to kind of an L shape so we could lag the feet down flat. We put all of the feet on and assembled the track Thursday. Here we are putting the first piece in place on Friday (sturgeon swims up river).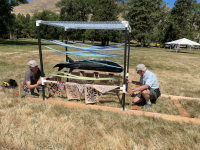 We also put 18" screw in ground anchors in (tested to north of 1000 lbs pull out in the ground here.. which... was as high as the scale we had went).
This was used with turnbuckles to tie the top corners down to the opposing side in a X fashion with some 1/8" (1500lb test) cable. I'm tightening a turnbuckle here.
You can also see the rebar pins a bit better here.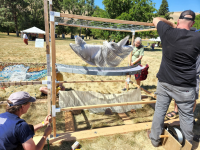 Almost all of the pieces were super wobbly so I cut a TON of shims and wedged all of the junctions (that was pretty much yesterday afternoon) which helped stabilize them a lot. I'd have made the junctions differently myself, but it is what it is.. and I'm glad I cut a bunch of wedges ahead of time hah.
I had originally planned to tie all of the tops together with the cable as well (and had made a cabling plan and turned a BUNCH of spacers to hold them at a constant distance).. but predictably (I guess..) given the flexibility the artists had made the pieces all different heights so that ended up not being feasible. It would have helped the end-end wracking... we kept a dozen or so anchors for emergency repairs later.. cause .. yeah...
There's going to be a video documentary released, my buddy Sean was doing that and tried to corner me for commentary but i begged off that I had to go unload equipment right then and escaped out the back road before he had a second chance
I'll also try to follow up in a month when we see what survived the elements.