The time has come (long overdue) for me to begin the built-ins and new mantle for my ugly fireplace. The first order of business is to attach some strapping to the brick to which my cabinetry and over mantle will be fastened. What's the best way to do this?
My first thoughts were to use
Tapcon
screws. I've never used them before, but I have heard many raves about them. Do they hold equaly well in brick as in concrete? That's the next question - where should the screws go? In the mortar line or directly into the brick? Does it matter?
Here is the beast in all its "before" glory.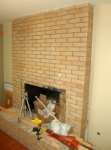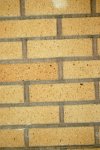 Last edited: