Administrator
Staff member
Off yer Rocker.
Lead guitarist is an electrician
Drummer is a maintenance director at a casino and a plumbing specialist.
Singer is an automotive maintenance expert.
Rhythm Guitar used to be and EMT And is a safety guy for a major construction firm.
I pretend to play bass and can do some things on a computer, lol.
Yeah, that is a mess, but I'm pretty sure I can do much better that that mess.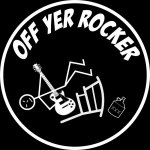 Last edited: