Well it's been long time since I posted a project so I thought it was time, and despite it is not finished yet here you have some progression pics, but before let me explain the reason of it.
Every sunday, like a tradition LOML and me get up early and go to have breakfast to a "churrería" and have cooffe and milk with a special kind of churros called "porras".
They are delicious and the the owner of the churreria who is in his seventies is there making his churros. He is a very nice man, easy going and with a great heart. As what he makes is one of those small pleasures that make life worth living I wanted to make a present for him and hence this project.
First I drew the outline of the relief. They are cups of coffee, churros and porras, the napkins holder and the sugar bottle.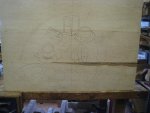 Then in order not to strain my arm I routed away the arch and the lettering, setting the background level.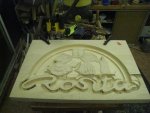 After I routed some grooves to remove all the rest of the thickness to the background level, t is the fastest way of doing it. I also lowered the height of the arch and the lettering.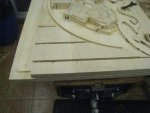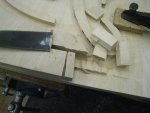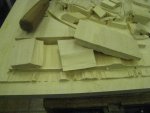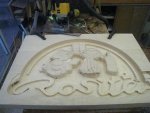 Then I started carving the easy parts like the sugar bottle and the napkin holder. As it was uncomfortable to carve and move around the bench to reach far spots, I inclined the carving with this set up. The sticks that you see on it are to prevent it from bending or warping, and to hang it on the wall once finished.
One of the problems of big rlief carvings is if the wood is not really dry, as when you carve you increase the amount of wood surface exposed the front side of the carving dries faster and shrinks bending the wood.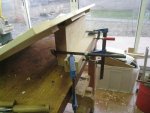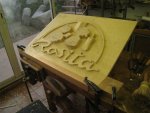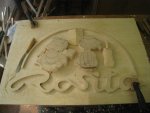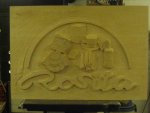 More to come soon...