It's been several years, but I really liked the community here. Real life seemed to get in the way of my "shop" time. Lets see, I've moved to a new place, changed jobs, remodeled the "new" house, and had 5 new grandchildren born... it's been hectic for a bit. Anyway, I went from a shop that was a two car garage shared with 2 vehicles to my own metal building with concrete floor and power that's 35x55. In the process of partitioning it off to 30x35... but won't have to share that with anything else when it's done, so a fully dedicated 1,000 sq ft shop is in the future. Now that spring is here, of course I haven't been working on the shop itself, as I have projects I wanted to complete....but I need to get this finished so I can work year round instead of just in the "good weather" months. Have a few things to post that I've done, just wanted to say hi again, and now that i have some free time i didn't have before, I plan on being a bit more active here than once every few years lol.
One of the first projects I did when we moved to the new place with the shop was this worktable..... been extremely handy for everything.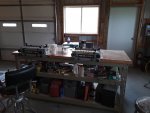 Not much woodworking involved in that, but hey, quick / easy / and it weighs a TON lol. Been very handy for projects. See ya around the forums !