Hi guys.
I am on the process of designing a flip cart to hold my spindle sander and my benchtop router ( that I also have to refurbish). I have enough salvaged material of chipboard of 20mm (0.78") thickness with melamine on both sides. The cart will look as on the attached quick sketch (not drawn the details yet) but I would like to know what sort of assembling sistem should I use, screws, screws and dowels or other?. (I don't have a biscuit jointer machine so that's out of the way).
I fear of not making it strong enough, I am being too cautious?
Any suggestion will be appreciated.
Thanks in advance.
This is the rough sketch of the cart, and how it wil flip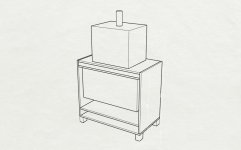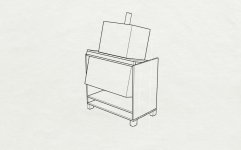 This is the body without the machines and the turning base. On the bottom I would like to have a drawer to put the different accesoires of the machines.
The cubes simulating legs are going to be the wheels to move it around. I've drawn them so that I could figure out at what height would get both working surfaces of the machines.