It's that time of year. I have been cranking out homemade nut brittle for family and the neighborhood gift exchange for many years. The basic recipe came from an old Gourmet magazine back in the 80's and the result is a nice crunchy product that won't break your teeth. This is not for those on a low carb diet.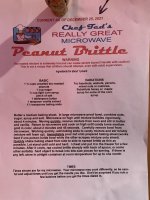 ,
Ingredients and a fresh very hot pour on the buttered baking pan just before shaking to spread the mixture out. The baking soda makes little carbon dioxide bubbles in the mix that make it not so brittle and easier on the teeth.
,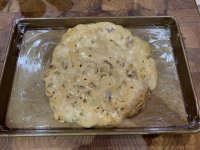 Honey pecan cooling off in the freezer on a piece of insulation to protect the frozen food underneath. Out of the freezer and cracked...ready to bag up.
,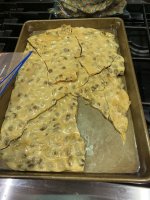 ,
5 pounds of honey pecan and three pounds of pistachio. That enough for today. More tomorrow. I need about 15 pounds.