This won't be anything fancy but I thought it would be fun to build a box that I need to hold the cutters an and collect for the CNC using the CNC. I Started out by designing a tool holder to handle the collect and bits. I started out by designing a holder to hold the collets and bit that I have or plan on buying in the near future. I have room for 4 ER 20 collets, 8" 1/2 shaft end mills 8 1/4" shaft end mills and 4 1/8" end mills along with 4 pockets to hold four boxes of 1/8" mills that I have.
Fusion 360 allows you to do parmetric designing. For those not familiar with parmetric design I will try to explain. To do this I first make a table of the various dimension for the parts of the design assigning them names as I go along. Then when doing the drawing to use a dimension instead of saying 18 inches for the side you define side in the parameter table as 18" and then you merely say "side" when you are doing the drawing and the program automatically knows what you are talking about. Then if in the future I want to change a dimension I can just change it on the table and it will automatically adjust the drawing. This will be useful if in the future I want to build another one but make it bigger to accommodate more bits or different size bits.
Here is the parameter table for the holder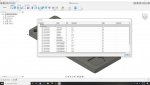 and the layout of the holder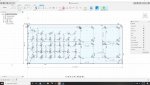 and finally a rendering of how the holder will look after it is machined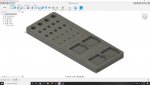 Now I needed to design a box to hold the tools and since I have the tool holder done I now have the dimensions of the tool holder. I wanted to make the box drawing more flexible so I could use it for other boxes in the future so the parameter table will make this very easy.
Here is the table for the box parts.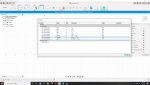 There is a problem in the box design in the box width is an inch off from the tool holder but since I used parametric design it is very simple to change by just making one change to the table.
here is the layout for the various parts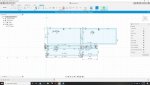 I and only showing one side and one end, I will uses software to create the second set of parts
and last here is a rendering of the parts after they are machined.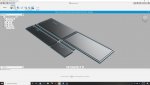 Next I will briefly cover how Fusion 360 set I set up Fusion 360 to do the various parts to creat the parts program and then finally cut out the parts.