Administrator
Staff member
Browsing through a little home store we have here the other day, I came across one of these Calzone maker jigs for $3.69.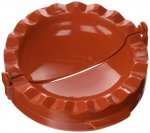 https://www.amazon.com/Pizzacraft-Large-PC0406-Calzone-Filling/dp/B005HU10GG
I picked up some Pillsbury pizza dough and some pie crust dough from the grocery store along with all the pizza fixings and some pie fillings.
The jig worked quite well for the assembly of both the calzones and some blueberry and apple pies. When in the open position, the jig actually has a cutter built into the bottom for cutting out the right size of dough for the jig.
The calzones came out OK, mostly wasn't happy with the dough, so will experiment with some pizza dough recipes. But overall was happy with the process of making them and everyone got to build theirs the way they wanted them.
Now the pies...with the apple ones coated with a sprinkle of cinnamon and sugar, and the blueberry ones coated with a coating of raw sugar, turned out fantastic! I'd like to have shown you, but the evidence was completely consumed.