Administrator
Staff member
I'm getting quite a collection of chainsaw chains and have been looking for a good way to store/take them with me when I go out cutting firewood.
There is a plastic box on Amazon called Chain locker, but it seems overpriced for what it is. I also shopped the plastic hardware and food storage areas for options, but nothing really was what I had I mind.
Since I have the cnc going, I drew up a proto type, based on the chain locker. And milled one out. I ended up getting a couple of the curves wrong and must have mis measured the length of my smaller pole saw chain.
I went back to the drawing board, even got some help from my design consultant.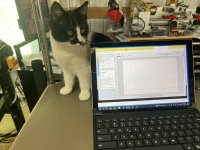 Version 2 came out a little better, but was unable to get the smaller chain out without a screwdriver.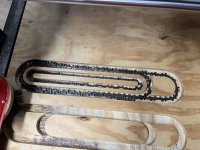 So I added a small pocket in the middle, which helped a lot.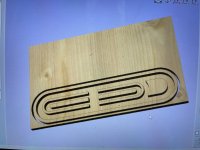 This one does work better, but the two smaller chain pockets could stand to be 1/2" or so longer. The 3/4" thick top is a bit thick, so may try some 1/2" ply.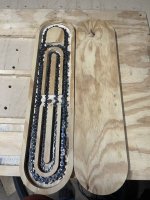 I'll probably seal both with BLO. I'll probably use a small piano hinge, but need to look at latches. A future version will be deeper pockets, maybe dual sided for sharp vs dull, or maybe some pockets for files and such.