Administrator
Staff member
So if we decide to move to the farm, I'm needing to look at shop options.
There is currently a 3 car detached garage, which will need work and clean-up. I could utilize it for a short time, but my wife does want a garage to park in too.
There is also space next to it for a new building, but I'll need to resolve some water issues for each due to the slope in the yard that puts water right in under those garage doors, nothing a little grading won't fix.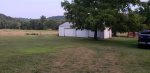 Now this is a lot of work and I'm still trying to determine if there are any major issues with the structure that are too prohibitive to fix, but I'd like to turn the old dairy barn into a shop.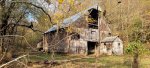 It's over 100 years old, measures 30' x 30' x 35'. Her grandfather had put a new roof on it several years back and for the most part it's in good condition. It is timber frame, and fully sits upon a concrete foundation. My wife wants to save it, it's part of her childhood, so I've already been trying to figure out a plan for doing that. However, we're not looking to farm, so other than storing her xmas decorations what else are we going to do with it?
For the side walls we're looking to remove the barn wood and replace it with metal, close off the hay loft opening. She wants to put a big quilt pattern up in its place. I'm also looking to add some side windows for light, and add a garage door at each end of the barn, slightly recessed in. Currently the back lean-to has collapsed due to some storm damage and I'm working on removing it. At some point, I'll probably build another lean-to to cover the concrete pad (future saw mill home?), but also for a little shooting range out back.
The first floor is three bays, the left side and center sections are dirt floors, I'm planning to pour concrete in those two dirt areas. The right side has a raised floor with a drain trough down the middle. The second level hay loft floor is just above the opening in the front and open inside to the peak. It will mostly be storage, but may build out some rooms upstairs too.
For the outside walls, I'm looking to build wall structures in to the openings between the timbers, leaving the timbers exposed inside, but to insulate and add some additional structure too. I'm still trying to figure out the best way to insulate the first floor ceiling from the hay loft's plank floor above. I like the look of the planks, but way too many gaps to keep the rodents out of any insulation I may add up there. I guess I could stack hay bales tightly front to back covering the loft floor, they do have something like an R75 value.
Anyway, just throwing around ideas and looking for some. There would be some pluses to building a new shop next to the garage and saving some costs of running electrical and having running water, but kind of digging the idea of having the shop in the barn. Of course it all has to wait until her house project is complete too, that is another thread.