For some time now i have wanted to get to this project and try my hand at making a spatula out of wood.
We have one in our kitchen that is a go to for all sorts of cooking.
So i cut a strip out of a slab of European beech that i purchased originally for this very project.
Here is where i am at thus far.
Its a handtool project after cutting out a blank or two on the bandsaw.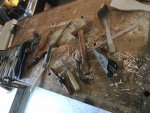 Still a fair amount of work left but a quick fun project yesterday to take my mind off not being at the gathering at Carols place as well as getting out the house while Mil is here.