Administrator
Staff member
I know several of you are running water cooled spindles. '
Since my shop isn't heated, I just filled mine with rv antifreeze this past spring. I noticed the other day that the silicon lines had turned a brown color and the flow indicator had stopped. I had used the silicon tubing from some of my beer line supplies (co2 lines), so didn't think it would need any cleaning. Seems it must have had some bacteria or something in it. I had a coating of white gunk inside the indicator.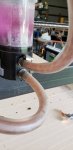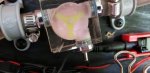 I'm assuming that it was due to the beer line having some yeast or bacteria in it. I thought the RV coolant had some anti-bacterial properties, but not the brand I bought. So, I picked up some distilled water and used some of my beer line cleaner chems to flush and sanitize the system again. Then also used an air hose to clear things out. It's all working again and flowing correctly. I refilled with the same rv coolant, but added a few drops of algae control to it this time. We'll see if this happens again. If so I may have to figure out another solution for coolant.
The brown stain in the line didn't come out with the cleaner. I cut a short piece of it off and tried brushing scraping it inside, but it is just a stain.
For the laser I've been running distilled water, a few drops of the algae control, and a few drops of dawn dish soap. I've not had any bacteria or algae issues with it at all. But it's also in a controlled temp room, so I dont have to worry about it freezing.
Just curious if anyone has had this happen or what they are using for coolant/algae/bacteria control?