A thread about a
hand-me-down Skil brand job-site saw
started to wander (my fault) into the reviving of my grandfather's 113.-saw. To try to make the info more accessible to future visitors I am starting this thread. Quick recap: Grandpa's saw, bought new around 1950-52. Was handed down to my father and in turn to me. It has been stored, unused since about 2005. Dad and I got bored and decided it was time to breathe some new life into this rugged little contractor format saw.
First off, this is what one looks like. King Seeley made a very similar saw for Craftsman (models starting with 103.)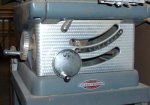 It's nice to have the original accessories all intact.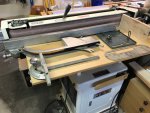 I put dad to work blowing out the body.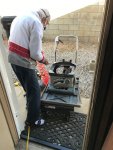 It is amazing how smoothly all the height and tilt functions work. We cleaned off any hard packed saw dust. Old grease wasn't a problem since grandpa and dad both followed the manual and lubricated conservatively with "SAE 20 or 30". The factory bearings were a bit rough. Even though they "have been packed at the factory and require no additional lubrication" I seriously doubt that the original spec required 70 years of service.
Woe is me. The arbor did not want to jump right out of the casting after all these years. I am not the person you want working on your car but, machines in general and I tend to get along. A little heat on the casting, not the arbor, and a tap from a heavy mallet and she came right out.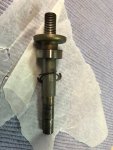 I was confused for a bit on getting the second bearing off. A thread over on Lumberjocks helped as the author had rebuilt this same model saw. A puller removed the press-fit flange and then the bearing.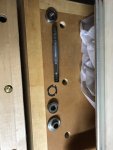 No bearings available locally. Such suppliers, like motor repair shops, have become rare as hen's teeth once you are out of the city centers. Amazon to the rescue; $10 and a pair will arrive sometime today.
A challenge not directly associated with the saw rebuild is a motor, stand and making it mobile. I had picked up one of Rockler's All Terrain Mobile Base units during one of their garage sales for half price. Now it has a purpose ;-)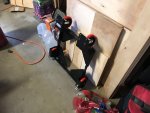 The saw body will bolt to a simple plywood box made from scraps. The box will bolt to the mobile base.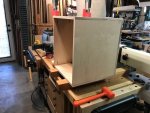 I'll update later once something more interesting happens.