Administrator
Staff member
I've been looking at some of the modular tool boxes for a while as most of my house work tools are living in tool bags. The bags hold a lot, but quickly get full of duplicate tools and things fall out of their place between jobs. I also find myself having to dig through a bunch of tools that are unrelated to the job at hand.
So the craftsman versastack came up at 20% off, so I picked up this set for about $80 at Menards and the tool tote part at Lowes for $16. Each box can snap to the one above and I can grab the ones I want for the job at hand to put on the cart. Each of the fronts have a label holder that can be changed to identify the tools you are picking up at a glance.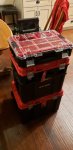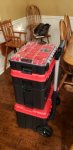 Here are all the boxes filled up. I need to add some organizers to the tool tote to hold the screwdrivers and pliers, the one that is with it isn't quite enough, but surprised how much the two bags it all came out of held, granted neither would zip shut.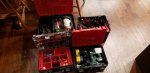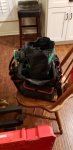 I've already picked up a couple more of the medium sized boxes and another of the small parts organizers, will split up some of my plumbing tools and various other tasks to their own boxes.
According to reviews/youtube videos, these are interchangeable with the Dewalt TStak organizers also, which happen to have a few more variants.
Last edited: