In the following I will show how I create a scaled drawing from a picture in Fusion 360. In my case it will be a scaled drawing but you could use actual size dimension if that is what you need. I needed to do this to create a 3 d model of the submarine hull I am working on. The only known dimension I have is the length over all (LOA) of 425 feet and the beam (width) is 33 feet. While I am sure someone who is better at Sketchup could do something similar, I find Fusion works easiest for me.
I start out by finding a picture of what I want to model, in this case a cross section of the missile compartment of a 616 class Polaris class Ballistic missile submarine. Here is one I found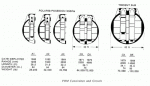 Next using Paint I crop the picture to just what I need to make my drawing.

the only known dimension I have is 33 feet for the width. For my purposed this will have to be scaled down since my CNC will only handle 48 inches of travel and my shop is only 20 feet long. In my case I use a 300:1 scale. So in for this drawing 33 feet = 1.32 inches.