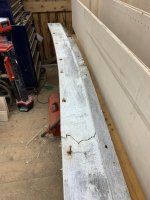 Hello Everyone
We're doing some more exterior work on the big barn, including the second half of re-roofing and now the end fascia boards (I think these are actually the rake boards?).
The photo is the top piece, straight for first 5', then begins the curve of the gothic roof. It's a very uniform piece, smooth curve and uniform width. How did they do this in 1915 and how do I reproduce it? Bandsaw with single point fence? Make a router template?
Any ideas are welcome.
Thanks