For anyone interested, for the past 4 years I've shared a few milestones of our young soprano's journey with the FWW gang. She's now a sophomore at the Crane School of Music at SUNY Potsdam, and will have her first televised solo as part of their holiday concert on various PBS television stations. If you're unable to catch the concert, but would like to see a video of the solo piece, I have an unedited original that I'm not allowed to post here but that I can email....just let me know.
PBS-TV affiliates across the country will be airing the Crane School of Music Candlelight Concert ("Let Us All Be Merry") this Christmas season (originally recorded Dec 3, 2017). Times and dates vary by regional affiliate, so check with your local PBS station program schedule for exact times and dates. WXXI-TV in Rochester will air the concert on Christmas Day, December 25th, 2018 at 5pm. WXXI-TV can be viewed over-the-air on Digital Television channel 21.1 as well as on Spectrum Cable channels
11 (Standard Definition) and 1221 (High Definition).
The hour long concert will feature over 300 musicians from the Crane Chorus and Crane Symphony Orchestra, under the direction of Dr. Jeffrey Francom and Dr. Kenneth Andrews. This year highlights the six-part cantata Vom Himmel hoch; the a capella hymn O Salutaris Hostia; two movements from George Whitefield Chawick's inspiring Symphonic Sketches, the soulful One Sweet Little Baby; Jerusalem: A Meditation for Peace, a modern plea for world peace; a rousing rendition of Old American Carols; and the title track, Let Us All Be Merry.

Tessa Spencer

and Samantha Martin (both from Rochester), are featured soloists in the beautiful a capella hymn, O Salutaris Hostia, about midway through the program.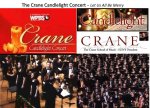 Last edited: