Administrator
Staff member
Every time we're at the shop, my grandson wants to get his Handy Andy tool set out to work with. He found an oak branch sitting out in the yard outside the shop and just for fun we were seeing if it could be cut with his saw. Surprisingly, with a little more effort on my part it, did cut the oak pretty well. After the first cut I got a vision of what the branch wanted to be and made a couple of other cuts, then some notches at the top.
We then set out to raid my wife's office and found the needed supplies to finish the project, along with a piece of a worn out glove.
Pics say it all...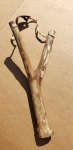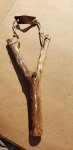 It was actually quite ergonomic with the knot on the back side to use as a thumb rest. He was able to hit the broad side of the shop with it, the side without windows of course.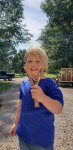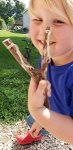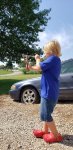 I used to shoot snapping turtles on the pond as they stuck their heads up out of the water with one, I'm still a pretty good shot. Of course mine was this style and I used 1/4" steel shot.