I oiled the top for the map gest yesterday and this morning I noticed what looks like a check in the end of one of the boards. It is not open, I can barely catch my fingernail in it. Unlike most checks it does not go roughly 90 degrees from the face but follows a grain line in an arc.
I'm perplexed and worried. If this is a situation that is going to be trouble then I will just cut up the top and use it for the drawer faces avoiding this one section. Once the top is attached to the base there is no going back.
Looking at it really close there does not seem to be any depth to it, might just be the nature of the walnut. Maybe I'm over reacting.
What say you?
Here's the top.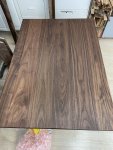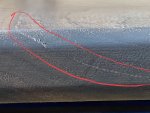 And here is the trouble spot.