The old joke, What's a buccaneer? A: A terrible price to pay for corn, has become a reality here. Last week I paid $3.99 for four ears of corn, and this week the packages were $4.99, and as I had five people coming for dinner, I had to buy two packages. The fresh corn won't be out for a while, but the packaged stuff is surprisingly good.
So for dinner yesterday, I smoked a ham, asparagus, and white eggplant as well as corn on the barbecue. Didn't work out too badly; the ham was delicious, some of the asparagus dried out, but about half was salvageable, and the smoked eggplant was OK. After dinner I went out and realized I had left the barbecue on, so I went over and turned off the burners, then opened it up, and found: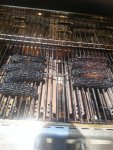 I thought they were kinda pretty, all black and shiny. Funnily enough I thought there was something missing from dinner. I'm not about to tell my wife that $10 of corn went south, but I sometimes have to shake my head at myself.
Today I smoke a salmon fillet, and tomatoes which came out well even thought the smoker got a little temperamental on me. It went out twice. I may have to shelter the bottom of the smoker from the wind.
Oh, you know how salmon fillets are usually thicker on one side than the other? So to give everyone the same amount, you cut the fillet from top to bottom, right. That's what I would have thought, but I asked my wife to slice it into four strips, as I was busy, and when I got to the table, she had sliced it lengthwise, leaving two think slices one average slice, and one miserably thin slice, which I had to take because my mother raised me to be a gentleman. Not to self: cut the fish yourself next time!
Last edited: