Administrator
Staff member
I know you all thought to yourselves, "Darren sure is looking like he needs something else to do", I know my wife did...
Neither of these replacements are going to be easy. The front door is the same size, but the brick moulding is about 1 1/2" wider on the outside. It looks like they cut the moulding to fit between the brick on the old door.
So my plan is to remove the brick around the door all together. It seems they didn't tie the concrete porch to the foundation or build with footers underneath, so it tends to setting about 3/4" per year. It's been mud jacked at least once, but there isn't a brick ledge for the brick to set on, so it usually settles along with the porch. My fix has been to just fill the gaps in the mortar year to year. I may frame and box in for some other kind of siding, haven't decided just yet.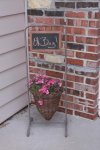 The old door from the inside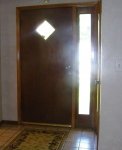 The new door view from what will be the outside.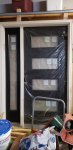 The other set of doors will replace this double window. Unfortunately the frame or brick moulding for it is a bit smaller as well, so I'll have to remove the siding and possibly move each side back about 1/2". I think there is also electrical under the window. There is only one outlet on the other side that is fed from it, so may open up the drywall to feed it from the other direction/wall.
The new patio french doors. These were hard to find as they are only 48" wide, but finally found some at HD. These are made to swing outward. The soffit above these is pretty low, so should provide plenty of protection from the weather. I will need to work on some drainage along the back of the house though as water does pool up in the bed beneath the window when we get a really good downpour.
Anyway, stay tuned, may start on some brick removal this weekend.