I've decided to finally upgrade my horrible hf unit to something a little more professional. I currently have a Wynn Filter on it and have been using it for a year. I am aware how many people love this thing and so many use it. But that's not how it is on my case. I had to replace this dc 2 times because of issues in the past 2 years and putting the Wynn Filter on it even though helped a lot it's still not even decent. Leaks air through everywhere, even the sides of the dc and the bottom sides of filter which are covered at the moment to prevent leaks. It's right next to my tools and suction is okay. I mean considering the price I paid for it is great but it doesn't satisfy my needs. The machine is good for the money, just not if you use it everyday for hours.
I'm considering on upgrading to either of the following models:
Powermatic PM1300TX with 2 Micron Filter & Turbo Cone
Jet DC1100VX-CK with 2 Micron Filter and Vortex Cone
They are single stage but the cone will probably expand the life of the filter and in the future I can upgrade it. Also I'm planning on using it right next to my tools and using just one tool at a time. My shop is tiny eitherway.
I would really appreciate some feedback from anyone that had any of those dust collectors. Unfortunately I can't find much information online.
I've heard so many people saying to stay with the hf model but I don't get how someone can be satisfied with this thing. I hope I can get better suction from my upgrade.
My main concern is working well with my Laguna Table Saw, which basically inside has a 2.5 hose that is connected directly to the outside 4in port and the overarm is connected to a Festool dust extractor.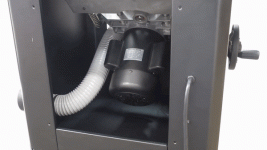 Sent from my HD1907 using Tapatalk
Last edited: