I guess I should have posted this awhile back. Or maybe I did but disremember. Anyway, install the Sketchucation
Extension Store
tool and use it to search for and install extensions that are hosted on Sketchucation. After it is installed you should have a toolbar with red, blue, and gray cubes.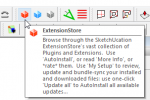 Clicking on the red one will open a window showing a list of extensions. Click on the magnifying glass at the bottom to search or just grab you some random ones if you want. If you have extensions you installed with the Extension Store tool previously and there are updates available, that will be indicated next to the gear icon at the top left. I'll leave you to poke around the other tools on the bar but if you have questions, just ask.
There are also some tools accessed through the Extensions/Plugins menu. One of them will show you the keyboard shortcuts assigned to the various tools. This could be handy if you want to see them all in one place.