Changing filament was getting to be a real bear, especially with my old eyes. I tried a small mirror, which worked, but I wanted a way to hang it near the extruder while I worked with the filament. I drew up a design in SketchUp and this is what I got. I just published it on
Thingiverse
.
It hooks over the gantry rails and slides up to the extruder assembly.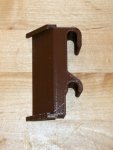 With the mirror at a 30° angle to the rails, I get a clear view of the top of the extruder tube.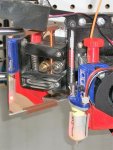 It holds a 76mm (3") mirror that's about 2.5mm thick. I bought a 6" square acrylic mirror on Amazon and cut it into four pieces.
Last edited: