Well I finally got off my rear and got started building my downdraft/out feed table. I had enough of all the dust from sanding and am not ready to take the plunge yet on a mirka ceros sander just yet.
I built it with left over plywood from some jobs I had. The squirrel cage furnace fan Norma got for free from one of her co-workers that does hvac on the side. I re-purposed anything I could use from the old out feed table such as the casters, drawers and definitely the 3/4" phenolic top. The top is hinged and will allow me to change filters. The blower will be connected so that I can run on high speed for sanding and either low or medium for just general air filtration.
I'm actually gonna have more storage room in this out feed table as I'll be able to store my battery chargers for my cordless tools so that they are ready to go at all times and even store my nail guns here also within easy reach.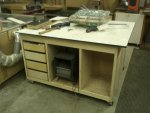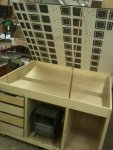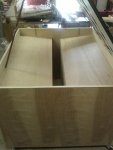 I'm tempted to get a little fancy and do some pullls like this I just did recently for a client.