Administrator
Staff member
Woke up wide awake at 4:30, but after trying to go back to sleep for 2 hours I finally just got up.
My morning project was installing the new (2nd, replacement ) microwave. I still need to fish in a new circuit, which I pla to do tomorrow morning.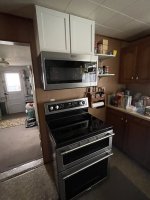 I then decided it was a warm enough day to get the electrical feeder moved from the old panel to the new one.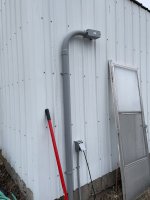 It's still a 60 amp feed, but I pulled it out from between the metal siding and studs and put that last 8' into conduit, directly into the new panel.
I got all but about 1 1/2 foot of the 8 foot ground rod drove in with a T post driver. I must have hit a big rock or the hard pan, it wasn't going any further.
I got all the old circuits disconnected and separated my lighting from the wall outlets. I also now have a circuit for the cnc to start using it.
Besides the electrical work tomorrow, I need to get the wood pile stocked again, we have some of that cold weather heading here too.
Did I mention I am on vacation?