This is just a preview. I have had this Oak Cookie sitting around for a lot of years. I milled off the top and bottom and sanded it down real pretty.
After cutting it down on both top and bottom I measure 7-8 % moisture. Nice and stable.
I decided that there is a Fisherman living in there and he needs to be shown,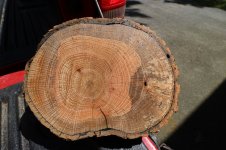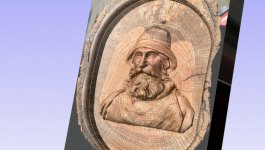 Just a FUN project in between all the other stuff.
Not sure yet how I will be finishing it off. Got some ideas. I will know as I watch this progress. Glazes? Colored epoxy fill? I just don't know yet. This may be a Saturday or Sunday project.