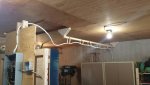 So many like 30 years ago i visited what i consider to be an American icon corporation in Concord MA.
the company General Radio or as they were known in modern times was Genrad.
Well i never forgot seeing their temp power points in there general flexible assembly area and thats been my inspiration for the solution to my new temp shop.
i was not going to wire receptacles all over a 2 car plus garage that when i move out is going to be demolished.
But i was also not going to go without the shop for the next two years. So i ran a 6/ 3 cable from the panel 70 feet away in the basement and then on one of my Tom Clark tool draw cabinets i erected a 1.5" thick plywood wall hung my plastic draws on the good side facing my draws and counter top and on rear hung the panel.
at the top there is a wooden roller and you can see the leather hangers holding the cable up. Should i need to which will really on be in say a winter emergency when i may have to do something unexpected on a car and need space i can roll it out the way to the side.
not finished yet but should be by end of day.
Sent from my SGH-I337M using Tapatalk