Administrator
Staff member
I stopped by Grizzly on the way home from the farm today. They showed these were out of stock, so I went to look at band saws, but when I mentioned the sander the sales guy told me they just got more in today.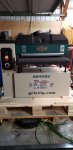 I used my adjustable height rolling workbench to unload it. Set it to the height of the tailgate, locked the wheels, and slid it off.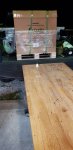 I'm kind of kicking my self for not getting the mobile base kit now, but I think I may skip using the factory stand and just build a cabinet for it on wheels with storage.
BTW, still thinking about getting the band saw to replace my 12" Delta. The sales guy told me to check out the scratch and dent section as they get more band saws in there than any other tool, could save a hundred bucks or so.