Back in the days when I was selling a lot of boxes most of my sales were to women. Women bought jewelry boxes, decorative boxes and boxes for their children. There were a few men who were customers but by a large margin women bought most of the boxes. On occasion a woman would ask about a box specifically for a man or seek to commission a box for a man.
So I came up with some boxes that I called Gent's boxes. They were designed to give a gentleman a place to empty his pockets. These boxes were large enough for a wallet, a money clip, a watch, an ink pen or two. They were temporary storage boxes rather than jewelry boxes..
Here are a few....
The first is made from bubinga and figured maple.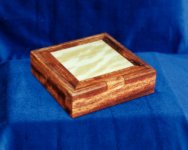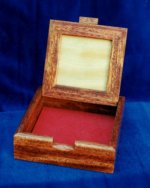 This one is made from Carpathian elm burl veneer and walnut. It has some dividers at the gentleman's request.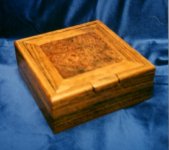 This Gent's box had a tray. It was built from walnut and walnut veneer and utilized Soss hinges and decorative jack chain.
This Gent's box was made from Lauan mahogany which I dyed with traditional red mahogany dye. It is hinged with quadrant hinges. The simple dividers were based on the golden ratio. I don't have a picture of it closed.
And lastly another walnut box with a recessed veneered Birdseye maple panel which is impossible to see in this lousy scan of a poor photo. The box had slanted sides and was hinged with Soss hinges and jack chain. The tray also had slanted sides which are hard to see in this photo.