Administrator
Staff member
I finally got my wife's GG-Grandfathers hardware cabinet and bench off of the trailer, it's been parked in the shop for a couple of weeks now.
I missed getting a full image of the bench with the top on, will try to get one later, but looking at the tail vise, I noticed it didn't have a screw on it.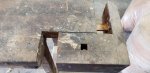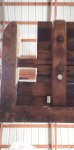 There are a couple of bolts on the cross support, but those appear to be holding up the vise. There are no hole that appear to have held an external mounted screw on the end piece.
So would this have used friction or binding to hold it in place?
One of the legs will need some repairs, it's missing a big chunk of wood on one side that held tenon for the cross support. I should be able to disassemble the end by driving out the wood dowels and do repairs to the leg and both bottoms. I still need to give it a good power washing though to make sure there isn't more to repair.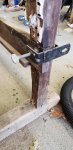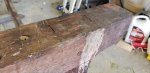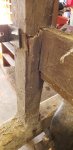 Finally the hardware cabinet, No drawers in it yet as I need to figure out where it will live. The back was an old crate.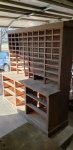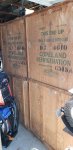 Last edited: