I picked up a Stanley No.8 joiner and a No. 5 corrugated while we were out antiquing last week. The No. 8 cost me $20 and the No. 5 cost me $7. I want to get new blades for both and was wondering if the Lee Nielsen Blade
http://www.lie-nielsen.com/lie-nielsen-replacement-blades/no.-8-bench-plane-blade/
and the chip breaker
http://www.lie-nielsen.com/lie-nielsen-chipbreakers/2-5/8-chipbreaker/
will fit or do I just need to get the blades from Hock Tools?
A few pictures of my progress so far. The No. 8 is broken down and dowsed with WD40 to help loosen some parts.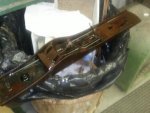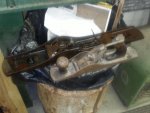 Here are the missing parts I needed I got off of E bay. The lever cap is for the No.5 and the lateral adjusting lever is for the No. 8.
I have the No. 8 in the electrolysis bath.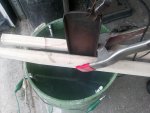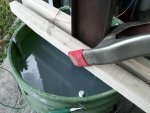 And the knob and Tote with some sanding and a coat of oil. The rosewood sure smells sweet when you sand it!