The original Greene and more Greene thread is getting a bit crowded, so I thought that I would start new, individual threads, for the last two pieces in this commission. There will be a medicine cabinet and this, a grandfather clock.
Not really Greene in nature, more in line with Stickley, it has its roots in the Ashville clock which I believe is housed at the Grove Park Inn in (where else) Ashville, NC.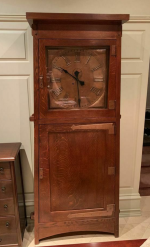 I've scaled it down considerably and made a few other major changes taken from this inspiration piece.
I took the leg, stretcher, crown and tenons from the bungalow clock and combined them with the wider stance, hardware and face of the Ashville clock and then threw in a few ebony plugs for good measure. The face is hand hammered copper, 13" square. The huge strap hinges are also made by the same
coppersmith, John Monk
. He is a true artist and very sought after in the Arts & Crafts community.
This is the drawing we're working from.
Yesterday I finished the 'skeleton' and test fitted all the joinery. Today I'll work on gluing up all the panels.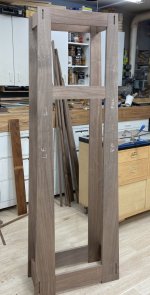 I was very fortunate to have gotten my lumber from Larry for this project as he was very thoughtful in choosing boards from the same flitch. I was able to capitalize on this using two contiguous boards for the front legs. A little hard to see right now, but once the oil goes on they will appear to be book matched. Win win.
Last edited: