Well i learnt something completely new to me today.
Cut off and grinding wheels have an expiry date.
The document that listed this info was a Norton Safety catalog.
So i went to the shop and retrieved a couple of my discs this has been something i carry a stock of since getting myself a welder.
I was surprised to see that it appears to be a standard stamped on the metal ring around the inside edge.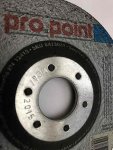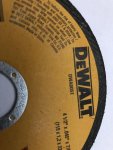 Only thing i dont get is why? Can anyone in the know offer a reason? I like to know why rather than just get told.
For what its worth, i had a unopened pack of Harbor freight cut off wheels that i opened to check but cannot make out the number nor os it in same easy format. What does one expect.
Any wonder that they so cheap.
So next time you buying and they on sale make sure you going to use them in the time period.
I see one of my Princess Auto Pro point brand items has expired based on the markings its 2.25 years past expiry.
Last edited: