Just finished rotating the inserts on my G0490X for the first time. Total time spent was about 2 hours for 40 inserts. Pretty uneventful. The main risk is getting bored doing the same thing 40 times and hurrying or skipping a step. Another tip of the hat to the forums at large. I had read many a sorry tale of the person who was inconsistent or not careful enough. The report is that a very tiny piece of crud can make this effort a do-over so I took my time and was very methodical.
Here's my setup: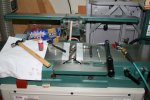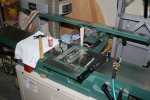 The first couple took me about 4 minutes apiece. I clocked it again around insert 25 and was down to about 2-1/2 minutes apiece. The last 10 took about 12 minutes but, I will have lost ALL that skill by the time I do it again ;-) The routine goes like this:
Unplug jointer
Remove guard
Use wedge and a light tap from the hammer to lock the head in position
Loosen screw with small torx #20 and handle
Back out screw with magnetic tip so as not to become unhappy
Remove insert and wipe the bulk of the crud off of it
Drop insert into cleaner
Use nylon brush to scrub seat area on the head with cleaner
Blow seat area clean with compressed air
Scrub insert clean and then dry with paper towel
Inspect insert to assure no foreign matter is anywhere (X-Acto knife helps if you find anything stubborn)
Seat insert
Apply small drop of 3-in-1 to threads of screw
Insert screw with magnetic tip and finger tighten
Apply 50 - 55 inch pounds with torque wrench
Repeat (more or less)
I stopped after each helix of 10 and ran a test cut. My (potentially flawed) logic here was that if there were a problem I could locate the problem out of the 10 I just did easier than out of 40. Each test after each helix of 10 was perfect and I am very happy. I have run this side of the four sided inserts for about 2 years; your mileage will most certainly vary. My advice on this task is to take your time, get comfortable, take breaks and stay diligent. The extra time spent on each insert is way less than doing the whole job again. I'm no mechanic and I had no mishaps and got a perfect result. If I can do it, anyone can do it.