Our guest bathroom has always been very serviceable, but lacking. It was the typical fiberglass all-in-one tub/shower and the mirror was the usual big slab of glass on the wall. Several years ago, we had a new quartz countertop installed that spruced things up nicely. For the past few years, we've discussed a variety of updates including a walk-in tub with shower. After further discussion with local contractors, we decided to go with a cultured marble shower arrangement.
Here's how it started and how the new setup looks: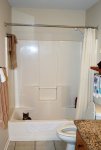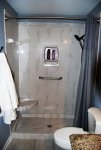 While the crew was at it, we had them install deadwood in the walls to support two ADA grab bars.
Here's the before and after of the mirror change: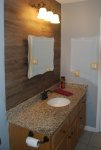 The crew was very helpful by using their big suction cups to pull the old mirror off the wall. After looking at several options for a wall covering behind the new mirror, we decided to use a vinyl flooring product to give a barnwood appearance. We still have a several decorating items to decide on, but at least the major stuff is done!
We re-painted the room a medium/light gray that brings out the black in the cultured marble and also goes well with the countertop. New, matching shower fixtures, towel racks, etc., finish the look.
Oh, yeah - the cat. That's Lucille the water cat. She took up a position of defense when she heard us talking about taking away her tub!!! She's not a swimmer, but loves to climb in the tub or shower as soon as either of us gets out so she can enjoy the warm wetness!