So earlier in week I popped into a Habitat Restore It store.
Picked up two real good bargains.
One I don't have a pic of and it was a gamble....a 1hp electric motor don't know if it runs but for $10 donation who could refuse.
The other was a nice wood outdoor table. $50.
We have such a nice spring day here I decided to sand and finish it outside.
Just busy admiring my work and having my first spring beverage. Dos Equis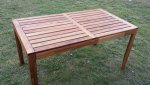 Sent from my SGH-I337M using Tapatalk