Hello All,
I've been in the wholesale wood business for years but only recently bought a Harbor Freight lathe to do some turning with my 12 year old daughter.
Basically, I get really cool wood scraps but don't have the woodworking chops to deserve them...but I'm trying! Look forward to participating here.
Sadie and I (with Comet) in Maine last week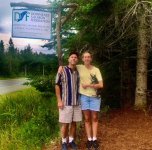 Thanks!
Steve