I was contacted by an elderly gentleman who has a clock that has been in the family for generations. He gave it to a clockmaker to fix an in the process of fixing it a piece was lost.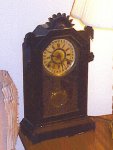 Here is a picture of the clock.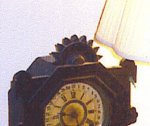 The piece that is missing is the sunburst thing at the top. All he can tell me is that it is 3 1/2" across and 1/2" thick at the sun burst. What I plan on doing is to turn a piece like it out of walnut cut it in half on the skroll saw and cut the rays in the sun burst the same way. Now heres my delema. I can firgure out how to scale the demension for the rest of the piece, such as the small relief under the rays or knob on the front. I started something in sketchup but I am drawing a blank.
any ideas ?
Last edited: