We then went to the plane body and worked to complete the plane details such as chamfers and carving the ramp details. We then gave it a light sanding and applied some oil finish. We did this so that in the last step when we started to sharpen the blades we didn't get the body dirty.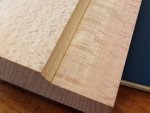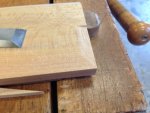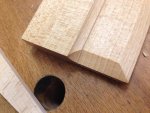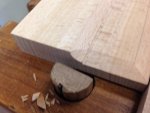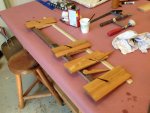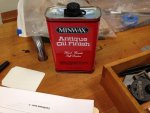 Part of the sharpening process is back forth fitting of the blade into the plane body to ensure we exactly match the plane bottom. I mean exactly. I was surprised at the accuracy that Matt insisted on. Anyone that buys a plane from him is guaranteed a precision product. Even before we started sharpening, we again placed the blade into the plane with the blade just barely raised and with the opposing plane body (the hollow) fitted with sandpaper we matted the two surfaces (plane bottoms) and rubbed against each other. First concentrating in the center of "the round" to create a slight concavity along the length and then along the entire length to truly flatten the plane bottom and again register the blade against the plane body, creating another small land on the blade. Then we sharpened with med India stones then honed with Arkansas stones and stropping with green compound on leather, constantly placing the blades back and forth into the plane body to check that it matches the profile.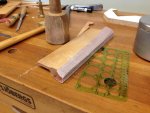 Here are my two completed planes. The wedges are not complete in their final shape as I am going to wait until I am home to finish. I want to use some tools that I have at home to complete the process.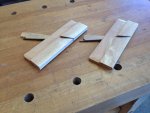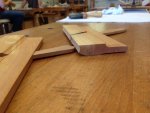 Last edited: